Our Banquet Room
Private Banquet Room
"The Valley"
8082 Olean Road (Rt 16)
Holland, NY 14080
Ph: 716-537-9361
Seating for Parties up to 64 Guests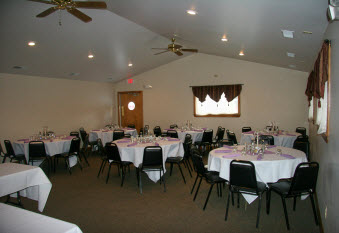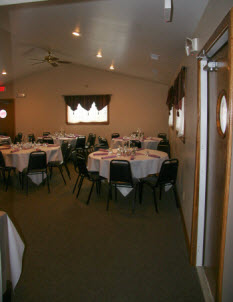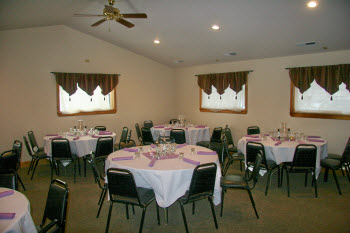 Banquet Room
Our newly renovated banquet room is available for your party needs!  With a separate entrance, private restroom and covered patio, our banquet room provides the perfect venue for your event.  Catering options can be tailored to your exact needs.  Consider a full service dinner package or something from our lighter fare menu.  As part of our extraordinary service, our banquet room packages include linen table cloths, linen napkins, china, glassware, and coffee/tea service.
 Appetizers
Consider adding one or more of our homemade appetizers to your party menu. Inquire about pricing as pricing may vary.
Chicken Wings, Chicken Wing Dip, Spinach Artichoke Dip, Stuffed Mushrooms, Swedish Meatballs, Taco Dip, Rye Bread and Dip, Deviled Eggs, White Pizza
Beverages
As part of the service, your event will be served with coffee and tea.  Additional services are available include cash bar, pop, punch, and a limited bar setup in the banquet room.
Terms and Conditions
For events with a catering invoice less than $250, there will be a $50 room rental fee.
All bills will contain an 18% gratuity, as well as an 8.75% sales tax.
A minimum of 25 people is required for a buffet set-up. Please inquire about other options for parties under 25.
No outside food, beverage, or snacks are allowed in our banquet room. Please inquire with any questions regarding this policy.
Renters are permitted to decorate the backroom WITHOUT using tape, packs, or pins in the wall. Use of glitter will require a $25 room cleaning charge.  Helium balloons can be used but fans MUST REMAIN OFF.
Children are to be kept in the banquet room for events.
$Dinner Packages
All full service dinner packages are served with chef salad and fresh baked rolls.  All options below can be upgraded to include dessert.  Ask for more details.
 Option A – $9.95               Option B – $8.95
Two Hot Entrees                   One Hot Entree
Two Sides                             One Side
One Vegetable                      One Vegetable
Hot Entrées
Oven Baked Chicken, Swedish Meatballs, Sliced Turkey in Gravy, Virginia Baked Ham, Roast Beef in Au Jus, Stuffed Shells, Grilled Chicken (Italian, Honey BBQ, or Lemon Pepper), Italian Sausage with Peppers and Onions, Grilled Chicken Parmesan, Steak Rolls with Stuffing, Fried Chicken, Grilled Pork Tenderloin, BBQ Chicken Pieces, Turkey Rolls with Stuffing, Honey Grilled Pork Chop, Pulled Pork.
Side Dishes Available
Mashed Potatoes with Gravy, Garlic Herb Mashed Potatoes, Bacon Cheddar Mashed Potatoes, Glorified Mashed Potatoes, Oven Roasted Potatoes, Roasted Salt Potatoes, Parsley Potatoes ,Country Stuffing ,Three Cheese Baked Ziti, Lazy Man Pierogi, Broccoli Alfredo, Tortellini Salad, Cheese Ravioli, Broccoli, Rice, and Cheese, Fruit Salad
Vegetables Available
Prince Edward Beans, Garlic Green Beans, California Blend, Honey Glazed Carrots, Buttered Sugar Corn, Broccoli and Cauliflower with Cheese Sauce, Lemon Pepper Cauliflower, New England Style Baked Beans
*If your event requires unique services or special diet considerations, we will tailor our offerings to meet your needs.
Breakfast Buffet Available including scrambled eggs, French toast, home fries, bacon, sausage, Danish, and breakfast juices.
Lighter Fare
Our lighter fare menu is perfect for baby showers, wedding showers, engagement parties, stags, funerals, and many more.  Ask for more details.